THAY just graduated an additional 12 yoga teachers from our Trauma and Service Yoga Teacher Training!
Last weekend, we connected with teachers all over the country with some logging in from Memphis, Baltimore, and even one international teacher from Ireland! We always enjoy the short amount of time we get to spend with these unique individuals! We are confident they will all go on to bring trauma informed yoga to our sustaining partnerships, and to their respective communities in a safe way.
"I learned how your language is critical in creating a safe space for your students. I also learned about the importance of offering various options for your students to make the practice comfortable and accessible to all students."
-Helsa, Recent THAY Scholarship Graduate
"As a yoga teacher I wonder if the work is truly effective. If I am experiencing a placebo effect of sheer will and mindset shift, or if this practice is measurable and tangible in its impact. This training helped to answer this. It confirmed the value, and importance of the work of the yoga teacher. Thank you!"
-Malikia, Recent THAY Scholarship Graduate
"I learned the THAY outline to a trauma sensitive class, what to consider when teaching in person and via Zoom, and learned from fellow trainees and their experience with teaching and understanding trauma in the yoga setting. I predict that the training will improve my understanding of trauma-informed yoga and expand my yoga community. I am hopeful that I will continue to learn from fellow trainees, THAY teachers, and students. Yes, I would recommend this training to yoga teachers interested in teaching in trauma sensitive settings."
-Donna, Recent THAY Scholarship Graduate
Stay tuned for future training dates later this summer!
With love,
The THAY Team
---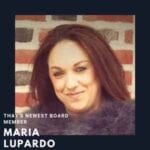 Maria A. Lupardo Kibrik is the newest addition to the Three and A Half Acres Board. As a 20-year Hospitality veteran, Maria's superpower is her keen ability to both sell & close events across a wide landscape of genres, venues and cities. She has graced the halls of some NYC giants such as The Waldorf Astoria Hotel, the Intrepid Sea, Air and Space Museum and most recently, the Cipriani portfolio. From those locations, has had the pleasure of hosting clients ranging from The White House to the Rock and Roll Hall of Fame. Alongside an established career in sales and events, Maria has recently been asked to guest speak at the acclaimed NYU Tisch School of Hospitality for both the graduate and undergraduate programs and also holds a position of Vice President of Programming and Events on the board of NACE (National Association of Catering and Events).
Maria's personal love of yoga and the life changing power that impacts both the physical and mental body, drew Maria to the Three and Half Acres Yoga foundation immediately. Knowing that an organization is making powerful, marked strides in reaching not only the student, but the teacher as well, to enhance the experience of yoga all around, left a strong impact on Maria and only added to her reasons to want to represent such a powerful force like THAY.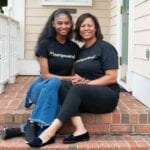 The Hive Community Circle, one of our newest partnerships and another lululemon 'Here to Be recipient', is a South Carolina-based survivor-network that is committed in preventing relationship and sexual abuse of young women and teen girls of color. We participated in their Survivors Summit on April 17th, and THAY graduate Angela offered a class promoting the breath into healing yoga and meditation. Angela also recently lead their Queens Gather workshop, with a session that included an hour and a half of yoga and mindfulness breathing. We are receiving great feedback with participants who have shared that they felt peaceful and that they will be able to sleep better.
"It was truly amazing, heart pounding.  It was very true to my beliefs in this practice.  Honoring the present moment.  I could go on, but I will leave it there. Thank you for the opportunity to be in service while in practice."
– Angela, THAY Graduate
---