Trauma Yoga Teacher Training
---
October 19-20 2019
Saturday 1:30 pm – 7:00 pm
Sunday 12:00 pm – 4:00 pm
Are you a yogi who wants to give back, help others in need, and change the world? Three and a Half Acres Yoga offers a weekend training course that covers all the basics you'll need to know to be able to work with trauma-specific populations.
Our training will assist you in working with vulnerable and underserved communities including low-income families, homeless shelters, LGBTQ youth, previously incarcerated youth. drug and sex workers, HIV survivors, and other marginalized populations.
Who is this training for?
This training is perfect for yoga teachers with a 200-hour certification or more who are interested in working with individuals or communities that have experienced trauma.
What will I learn in this training?
We will cover the following topics:
The best practices for working in service yoga settings
How to build and teach a trauma-sensitive yoga class
How to incorporate mindfulness into classes
The effects of trauma and post-traumatic stress and why yoga is helpful
Cultural competency
Basic ashtanga yoga sequences and principles
How to transform any yoga practice to a chair
Opportunities for practicum, volunteering, and mentorship
What makes this training unique?
Lara Land, teacher training instructor and founder/director of THAY, has been working with trauma victims and vulnerable communities since 2008 when she first traveled to Rwanda to bring the healing benefits of yoga to HIV genocide survivors. She holds a decade of experience in trauma and service yoga and draws upon this wealth of knowledge in her efforts to empower other yogis to make a difference in their communities. In taking this course, you will walk away with all the tools needed to bring the benefits of yoga and mindfulness to vulnerable populations in need.
What if I have no previous yoga training?
As this course builds on prior yoga knowledge and terminology, we require all students to have completed a 200-hour yoga teacher training before registering. If you are a yoga student with 2+ years of Ashtanga practice, this requirement may be waived.
Sign up for training in just a few easy steps:
1) Decide your commitment level (one-year, six months, no commitment)
FREE training with one-year volunteer commitment ($100 deposit)
$250 for six-month volunteer commitment
$550 for no volunteer commitment
2) CLICK THE "REGISTER TODAY" BUTTON ON THIS PAGE
FREE training with one-year volunteer commitment ($100 deposit)
$250 for six-month volunteer commitment
$550 for no volunteer commitment
3) After you have made your payment you're all set! We will send you our volunteer agreement and your spot for teacher training will be reserved.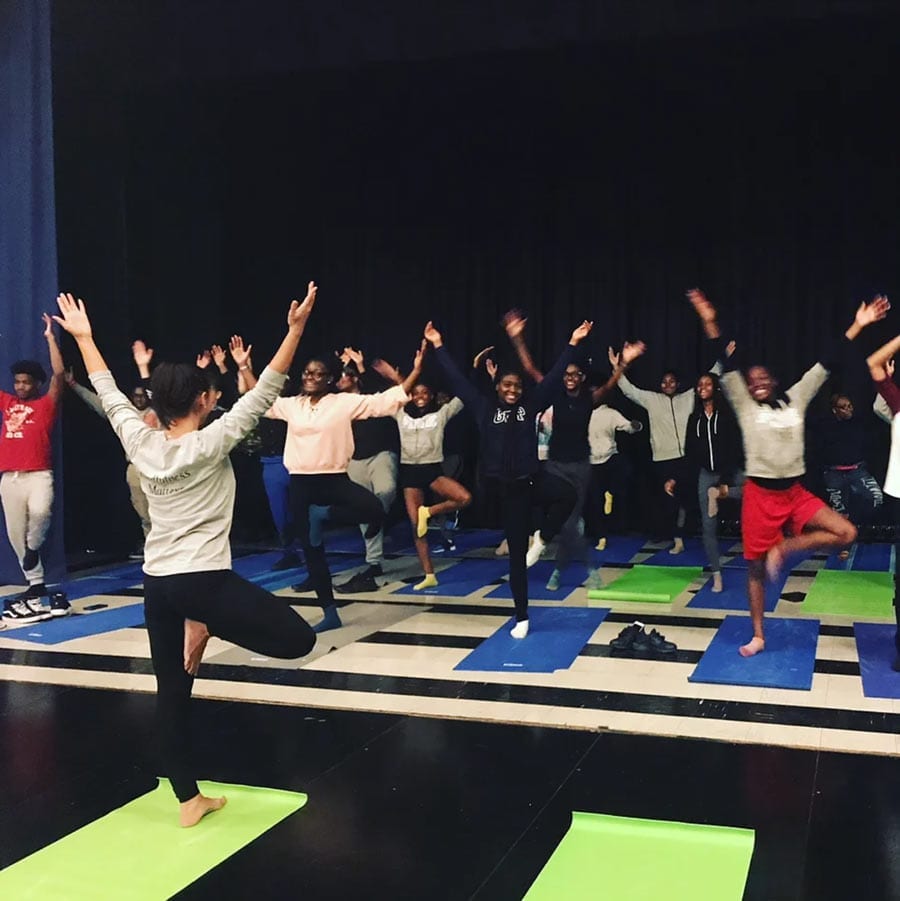 We will be in touch again as the dates get closer with more details on what you should bring!
Q: What exactly does the volunteer commitment entail?
A: The expectation is for you to serve 1 hour per week. Exact timing is flexible. There are options to serve from anywhere. THAY works with each volunteer to make serving fit your skills, interests, and schedule. For example, sometimes you could do a chunk at once, like:
4 hours tabling at an event
Teaching yoga classes in Harlem
Spreading the word about the program at police precincts and other community venues
Posting on THAY Social Media & updating websites and graphic design work
Q: Can you elaborate more on exactly what is covered in the training?
A: Teacher training covers Ashtanga Basics, What is Trauma and How to Teach Someone Who Has Been Through Trauma, Chair Yoga, Diversity Training & Cultural Competency.
Q: I have a certification in hatha/ashtanga/power/vinyasa/Birkam yoga. Can I take the class?
A: Yes! We'd be delighted to have you join us!
Q: I have no yoga training. Can I take this course?
A: 200+ hour yoga teacher training is required or a daily Ashtanga practice for 2+ years. You can volunteer with us in other capacities! Email diana@threeandahalfacres.org for more information.
Q: I live far away. Will I be able to bring THAY to my area?
A: Possibly. You can discuss with Lara at the time of training.
Q: I have a full time job/a busy schedule or I live far away. Is there a way I can fulfill volunteer commitment?
A: Yes. There is a lot of flexibility in fulfilling the service commitment, including digital work, calling precincts, tabling at events, and more.
Q: What are the payment options?
A: Payment options:
Free for those who make a one-year commitment to volunteering one hour a week. ($100 deposit returned at year end)
$250 for those who make a six-month commitment to volunteering one hour a week. (plus a $50 deposit returned after six months)
$550 for those who would like the training with no volunteer commitment
Q: Sign me up! What do I need to do to register?
A: Click the "Donate Now" button at the top of this page. In your donation notes specify the payment option that works for you. Make sure to include "Trauma Training" in your PayPal memo. After you have submitted payment, send an email with your payment screenshot to info@threeandahalfacres.org and you're all set! Your spot for teacher training will be reserved.
Please email info@threeandahalfacres.org with additional questions.
Q: What should I bring to the training?
A: Just yourself in clothes you are able to do yoga in and a pen.
Q: Where is the training located?
Q: Is this a certificate program?
A: A certificate for the course will be provided upon the completion of two class observations and two trial teachings.